This month W&M Creative services launched a revamp of the Social Stream site. The site is a combination of a "what's going on now" snapshot of all our official social media accounts' activity (the "Official" section) and a social media directory for all of the College administrative and academic offices ("Official-ish") and all the student organizations and various "W&M personas" that have appeared in the past few years ("Unofficial").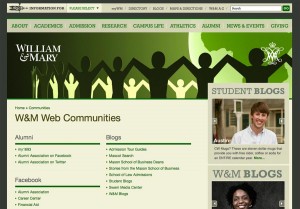 This project started over two years ago, combining  a "Web Communities" page that was maintained in our content management system and a Twitter-only stream of updates from the (then) two dozen or so College-affiliated accounts. Realizing that updates for more than just Twitter could be shown using the various RSS feeds and web API's available, the stream of updates was expanded to include Facebook, YouTube and Flickr. The list of Twitter accounts that had been used in the previous site, along with the Facebook pages, YouTube channels, blogs and Flickr accounts that we knew of from the Web Communities page were combined and divided into two lists so things would be a bit easier to find and particular audiences could have an easier time finding what they needed.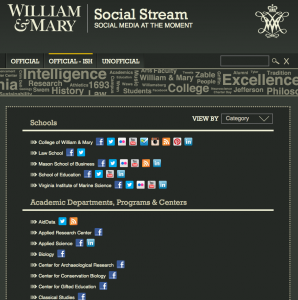 This directory worked well for a while, but as more and more organizations on campus joined in on social media and the variety of social media options continued to expand (Instagram, Pinterest, Tumblr, LinkedIn) the two column list began getting a bit unruly. So at the end of 2012 the social media team decided to revamp the directory portion of the site by moving the data into its own database (using Codeigniter to manage things). This allowed the lists to be more easily filterable, offering different viewing options as well as creating an administrative back-end so that anyone on the team could add or update an account (rather than hand-editing a PHP file).
Do you have a similar site for your institution? What challenges have you faced implementing and maintaining it?
More